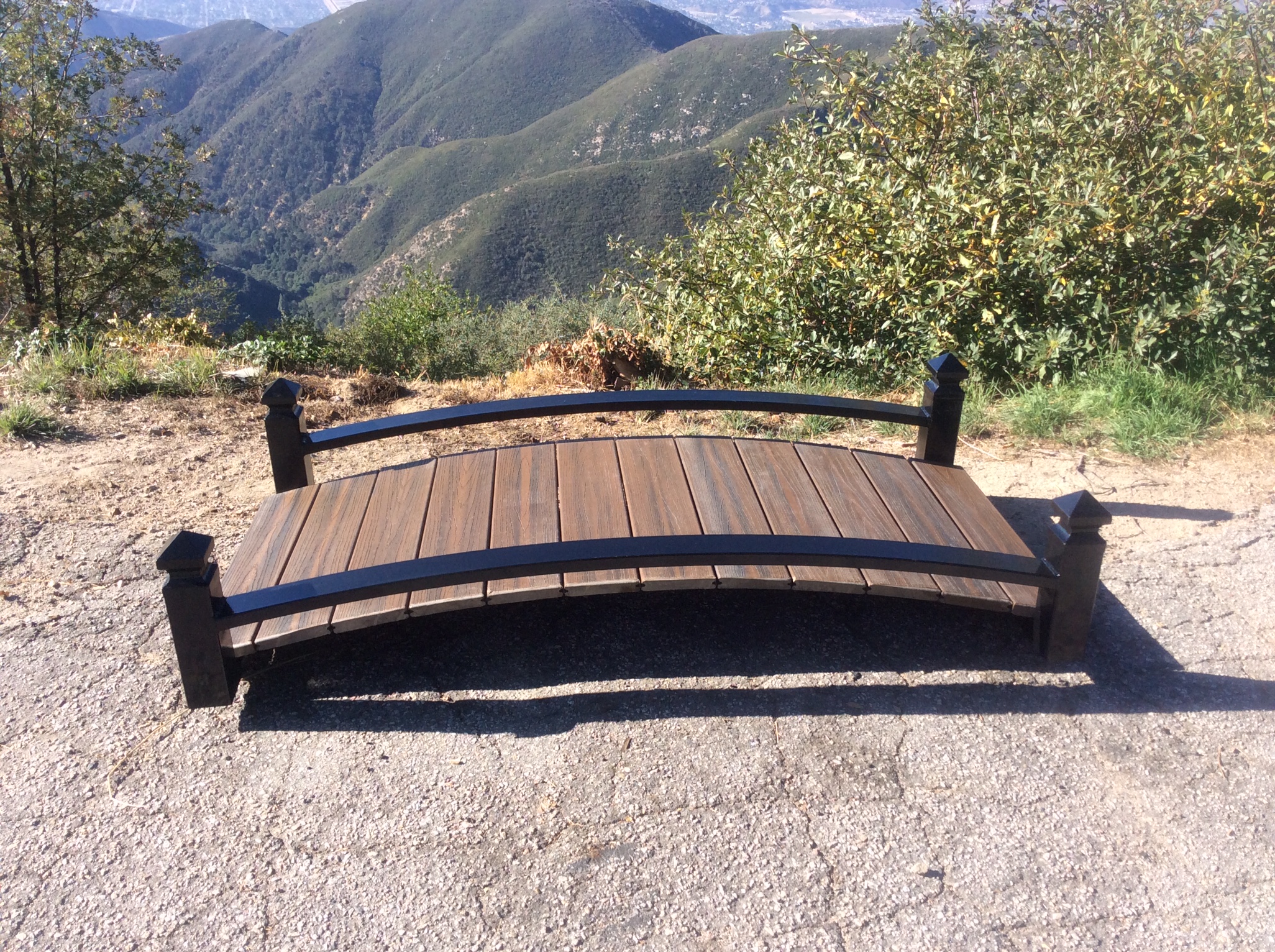 The Steel Frame Bridges
Skyline Bridges are beautiful, incredibly durable, low maintenance and amazingly strong. The bridge frames are made of 1 3/4' square steel tubing. The steel tubing is bent on a roll bender so it has a smooth, even, arching radius which increases strength. The bridge, when anchored on each end, becomes even stronger because of the arch.
Each bridges has a minimum of three arched and supporting members. This allows a large selection of decking materials. The short span between supports will easily accommodate 1"x6" boards with deflection.
Synthetic low maintenance boards such as TREX and Evergrain can easily be used because of the short span between arch rails. Various natural wood 1" x 6" and 2" x 6' can also be used.
For those that want to put their own deck boards on, the steel on the outside arch rails are per-drilled for the 5 1/2' spacing of a 1" x 6" or 2" x 6".
Why a Steel Frame?
Besides being incredibly strong and durable, a steel frame means a thinner bridge. The steel tubing is 1 3/4" x 1 3/4" square tubing along with a 1" x 6" deck which adds another 3/4" thickness, that adds up to bridge that is only 2 1/2" thick. This allows for better clearance and viewing under the bridge. compare this to wooden bridge which has to be much thicker because the wood is not as strong. A wood bridge is bulkier, and has more clearance with reduced visibility.
A wood frame bridge also requires more maintenance. Wood can dry out and shrink which can cause the bridge to become more wobbly. A wood frame bridge is also suspect-able to rot and decay. This is not a problem with a steel bridge.
This?
Depending on the length of the bridge, handrails may be desired. We can make short ornamental rails for full height, code compliant hand rails that are welded to the frame for extra strength and support. The rails can be installed on one or both sides of the bridge.
Bridge frames come painted but are available powder coated as a upgrade. Powder coating is the process of coating metal with a plastic finish applied in powder form and bailed to a fluid state to bond the the metal. Surfaces that are powder coated are less likely to scratch, chip or fade. Powder coating is more environmentally friendly than liquid paint since no solvents are used and the finish last longer than paint. Bridges can be ordered 4', 6', 8' and 10' lengths. Standard width is 26" to 36" in width. Custom sizes can be ordered separately, and will be made to order.